Know Your Stone
At Montes Marble & Granite showroom in Atkinson, an abundant selection of material is available to you. Compare different looks, styles, colors, and textures of granite, marble, quartz, limestone, travertine, and soapstone. With our large selection of different stones, we are certain you will find the look your kitchen, bathroom, and or project needs. Below is some useful information to help you know your stone and assist with your selection.  Keep reading to find out which is best for your next renovation project.
Build or Revitalize Your Space
Natural stone gives the home a timeless look unmatched by any other material. Before you start a project, make sure the stone you have in mind is suitable for your vision.  Please complete and submit the form on the right sidebar to tell us about your project and request a free estimate.
Granite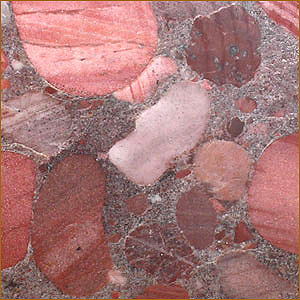 Granite is formed deep in the earth, where magma slowly cools and forms tiny crystals of iron, magnesium, titanium, calcium, quartz and minerals. While new rocks and minerals are constantly forming, most granite available today was formed hundreds of millions of years ago.
Granite is one of the most popular materials available for residential and commercial stonework. With proper care, it's beauty can last a lifetime.
Granite is known for its hardness and beauty.  Its mineral-rich colors, patterns and density make it ideal for flooring, countertops, vanities and exterior applications.
Durable and rich with character, it's no wonder why a granite kitchen counter is a fan favorite. The blend of natural elements produces a striking visual that is ideal for high traffic areas like flooring, countertops, and bathroom vanity tops.
Marble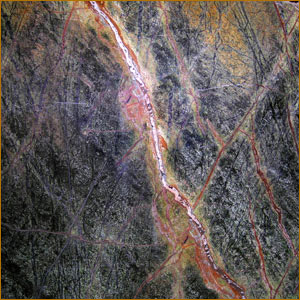 Marble has been a favorite material in art, architecture and construction for thousands of years. The rich metamorphic rock is formed when limestone deep in the earth is subjected to extreme temperatures and pressures, forming an interlocking mosaic of mineral crystals.
The texture of marble depends on the size, form and uniformity of the crystal "grains" while the integration of various chemicals and other materials can give the stone different colors.
Marble is softer (more porous) than granite, but is another natural stone that makes a popular countertop and floor tile choice.
Marble adds elegance to any space. This softer stone is fire-resistant, making it perfect for a fireplace stone mantel or as a stone tabletop.
Limestone
Limestone is a sedimentary rock, formed at the bottom of ancient oceans. Often fossils of marine life, shells and other organic materials can be found in limestone, giving them a unique appeal for decorative uses. Limestone is commonly used in architecture and construction, often being honed and polished for bathrooms, fireplaces, counters and decorative flooring.
This versatile stone enhances any room with a fresh, light look. It is waterproof and heat resistant, making it a great option for a kitchen backsplash, bathroom tiles, fireplaces, and staircases.
Travertine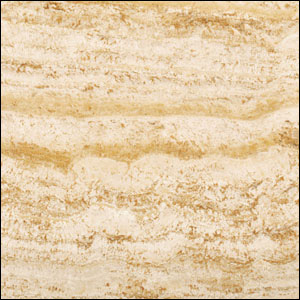 Travertine is a banded, compacted stone similar to limestone. This ornate sedimentary stone has been used in architecture and building for thousands of years, including the construction of the Colosseum in Rome. The stone is typically porous, and is often "filled" with a form of cement before being honed and polished. In household construction, it is most commonly used as paving for patios and walkways, interior floors, countertops, fireplaces and walls.
A building staple in Ancient Rome, there's still nothing quite like this stone today. Make a lasting impression with a travertine driveway, shower walls, pool deck, or patio. However, if you want to place it in a high traffic, spill-prone area, it is recommended that you invest in a protective stone sealer.
Soapstone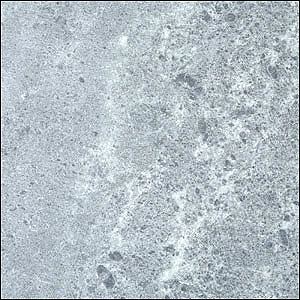 This smooth metamorphic rock is often used as decorative building material as well as being very popular for carving and artistic uses. This stone was widely used for counters and tabletops in early American homes, as it was widely available and relatively easy to cut and shape.
Soapstone is used for decorative features and installations, including sinks and countertops. It is a fairly soft stone, meaning it can be dented and worn more easily than harder stones. Unlike granite and marble, soapstone does not react to acidic or alkali substances so there is less concern with staining or etching.
Known for its bluish-gray tone and soapy feel, soapstone repels spills, tolerates high temperatures, and withstands common household cleaners without a sealant. Perfect choice for a natural stone counter, fireplace liners, or tiles.
Quartz – Manufactured/Engineered Stone
Manufactured/engineered stone (often referred to as quartz) has a non-porous surface, consisting of natural quartz and an acrylic and/or polymer resin. These surfaces are known to be stain-resistant, easy to maintain and generally heat-resistant (although we never recommend anyone to place high heat items on/near any surface).
Because they are man-made, quartz colors and patterns are almost endless and add modern flair to any room. This low-maintenance material is perfect for a busy lifestyle. Quartz countertops do not require protective sealing.
Montes Marble Carries Various Lines of Quartz including, but not limited to:

Alleanza, Caesarstone, Cambria, Compac, Corian, Hanstone, NuStone, Pental, Q by MSI, Quantra, Quartzforms, Radianz, Silestone, Spectrum, Vadara, Viatara, Wilsonart
Stone Care:
Please refer to guidance from the Marble Institute to care for the kitchen countertops, bathroom vanities or fireplace features in your home by using the links below.
www.marble-institute.com/consumers/care.cfm
www.marble-institute.com/consumers/stains.cfm
Found Your Stone? Let's chat!
For more information or to request an estimate, please call us today at (603) 378-9292 or visit our showroom and ask about our custom fabrication and installation services.