Your Project
OK, you have decided on that beautiful granite kitchen counter …or a marble mantel for the fireplace …or a quartz vanity top for the master bath. Sometimes it is hard to know where to start, so we have provided some useful information on the page below to help you get started on your project.
If you would like assistance selecting your stone and planning your project, please contact the professionals at Montes Marble & Granite in Plaistow. With our large selection of stones, we are certain you will find the look your kitchen, bathroom, and or project needs.
Estimate
For us to give you an estimate, we will need your project dimensions and your stone selection.
Project Dimensions
We can use dimensions from a kitchen/bath plan from your designer or a drawing with measurements of your existing countertops, vanity or project that you provide.
Stone Selection
We can help you narrow down your choice of material for your project. We have samples and remnants available at our showroom. We also work with all of the area wholesalers.
What is the Role of the Wholesaler?
The wholesaler serves as our primary supplier of material. If the decision is made to select your stone with an area wholesaler, you should understand their hours of service and their availability to have you view the stones. They will facilitate the communication of your stone selection to us, and from there, we will coordinate the rest.
Know Your Stone
View the "Know Your Stone" section on our website.  There are descriptions of granite, marble, quartz, limestone, travertine and soapstone to help you understand the nature of stone you are working with.
Find Useful Information About Stone Here.
Other Considerations for Your Estimate
Edge Profiles: Standard edge profiles in our estimate are a pencil edge, eased edge, ¼ round edge and a ¼ bevel edge. We are happy to quote upgraded edges including, but not limited to: 1/2 bullnose, full bullnose,  dupont edge, cove edge, single ogee edge, and double ogee edge, or bullogee. All upgraded edges are priced by linear foot of finished edges.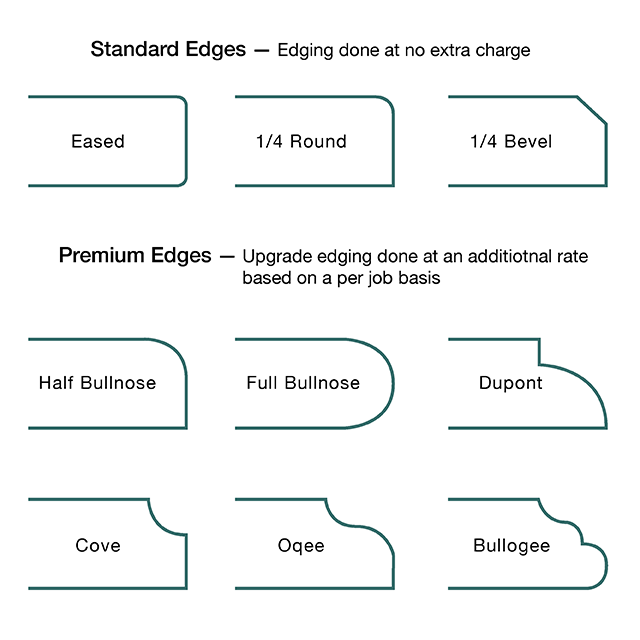 Backsplash: We can accommodate any size backsplash for your project, but we will need your guidance on the size of the backsplash for your estimate. Our standard thickness of a backsplash is 3/4".
Removal and Disposal: Please let us know if you would like us to quote you for any removal and/or disposal of material.
Next Step: Working with Our Experienced Template, Fabrication and Installation Team
Once you have made your selection of material and the necessary terms have been met, we will schedule the template to 1) confirm the amount of material needed, 2) verify any specifications of the project needed and 3) to confirm that our estimate is accurate.  Upon verification, the template is then submitted to production for fabrication and an installation date is set.
Important Note: We welcome any of our clients to lay out their template with us before production. When we schedule your template, please let us know if you would like to schedule an appointment to lay out your template.
For more information on granite, marble, natural stone and quartz, please call us today at (603) 378-9292 or visit our showroom and ask about our custom fabrication and installation services.