Are you looking for a new quartz countertop that matches your kitchen aesthetic? Check out the most popular quartz colors here.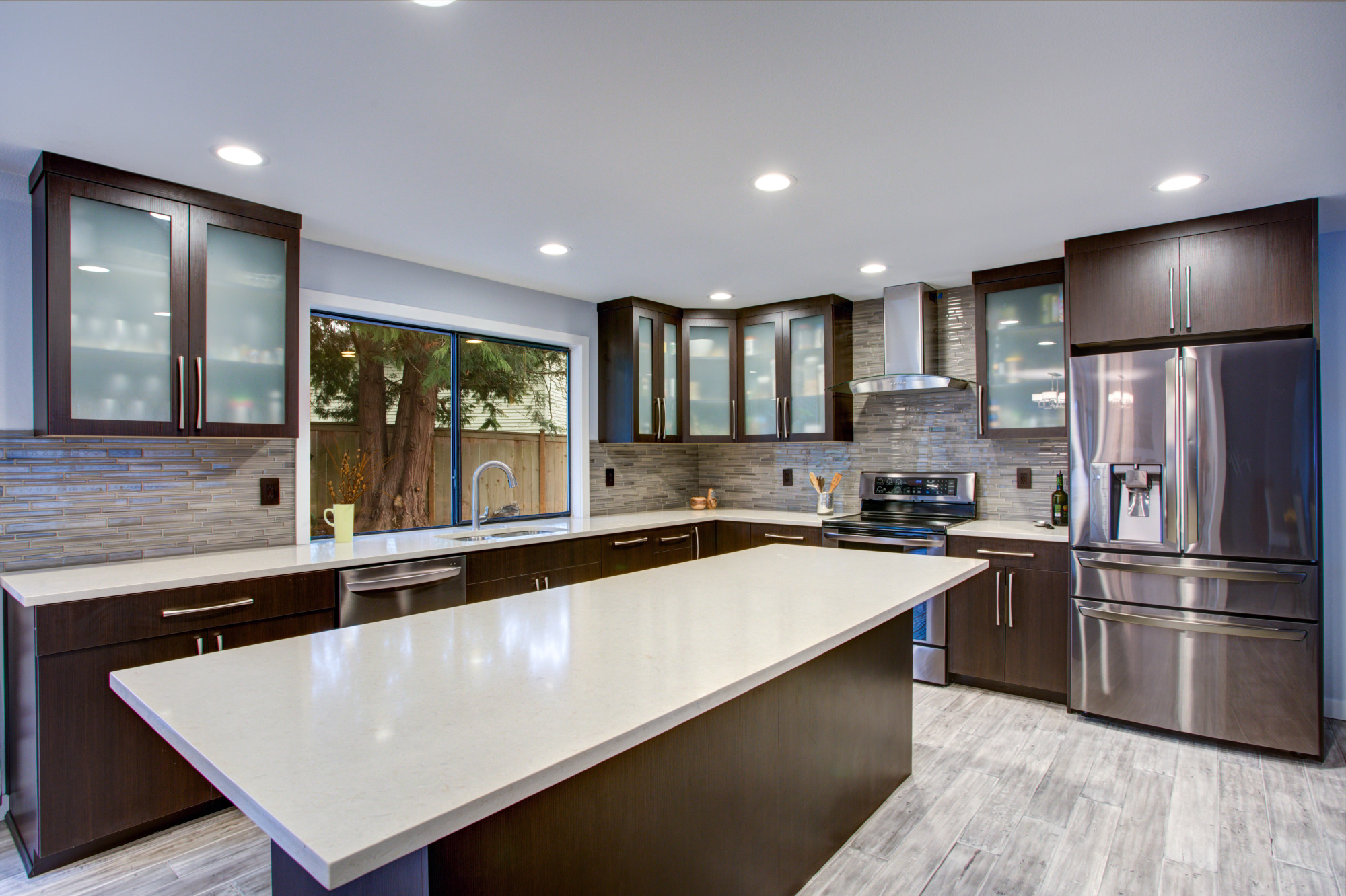 It used to be that everyone wanted a granite kitchen counter for that elegant and professional look. Well, quartz is the new heavyweight in the ring and it's grown increasingly popular over the last several years.
Not only is it extremely durable and much easier to maintain, but the variety of quartz colors means the only limit to the look and style of your kitchen is your imagination.
Quartz countertops are engineered using roughly 95% ground natural stone and then bonded with polymer resins for superior strength. From marble to concrete, quartz can achieve nearly any look you desire. Here is a list of the most popular quartz colors today.
For That Marble Look
Marble countertops are simply stunning. However, the cost and maintenance associated with marble have had many folks seeking that classic look in quartz. These quartz colors deliver the luxurious look without the cost.
Calacatta Laza
The look of the Calacatta Laza quartz is timeless. The soft white background features natural brown veining, giving you a look of marble that will fool even the most discerning eye.
These lovely, neutral tones will age splendidly along with your kitchen and fit with any new elements you choose over the years. Even from season to season, any decor will look perfect paired with this dramatic and elegant countertop. Bold reds, greens, and golds or softer hues will stand out beautifully against this gorgeous backdrop.
Carrara Lumos
Lumos has the Latin root for light and that's exactly what you think of when looking at this breathtaking quartz. The Carrara Lumos quartz is perfect for brightening up a smaller space without natural light or creating a stunningly bright kitchen. The white background has delicate wisps of gray swirling throughout for a dreamy effect.
With this quartz, you get all the luxury of quartz without the price tag or the constant upkeep. This beautiful quartz gives you elegance for either a traditional kitchen or one with a more modern look. Whichever route you take, Carrara Lumos is an excellent choice for your countertops.
A Little Like Granite
For a long time, granite was the king of the countertops. Some homeowners still want that look but have found the low maintenance of quartz far more appealing.
Gray Lagoon
This lovely quartz surface blends cool grays with the warmer tone of gold for a refined finish. The beauty of this combination is that it is lovely and forgiving, making it perfect for a kitchen that sees a lot of action.
The blend of warm and cool hues on this surface allows you the freedom to decorate in a variety of ways. Don't want to stick to just one? This quartz works well with both!
Smoke
A vibrant fusion of grays blended with pearl and onyx gives this surface a daring look. Sepia undertones provide warmth and depth to the color. The swirling movement of color in this pattern draws the eye.
If you're looking for a countertop that is pleasing to the eye but also easy to keep clean, this one could be for you.
Solid Quartz Colors
For some folks, the sleek look of a solid color is exactly what they want for their kitchen. One of the things that has made quartz such a popular choice as an alternative to the natural stone counter is that there are nearly limitless colors and patterns available. Many modern homeowners have gravitated toward minimalistic colors and styles for their kitchen counters.
Bianco Canvas
Canvas is the perfect word to describe this quartz color since it offers you a blank page on which to create your kitchen masterpiece. This cool, crisp white has just a subtle hint of gray to provide the perfect amount of depth to the color.
This polished surface can be the foundation for a brightly colored kitchen, or you can keep those sleek surfaces bare so they can shine all on their own. Either way, you'll have a kitchen that will be the envy of the neighborhood.
Aramis
This striking slate-hued countertop gives an industrial feel to your kitchen. The bold gray color stands out by itself or when decorated in bright colors. Even though it resembles the popular concrete countertops, the smooth polished surface is bold yet warm and inviting.
This quartz is certainly a perfect choice for the modern kitchen. Even unadorned, you can cook in relaxed elegance with these counters.
A Little Edgy
If you're looking for a style that is a little out of the norm for traditional kitchens, quartz is definitely for you. With the colors below you can wow your guests with a stunning and modern look.
Black Coral
There's something truly striking about black countertops. This quartz color has a rich black foundation softened with speckled grays. The surface almost looks like the night sky the way the grays sparkle against the shiny black finish.
Flash meets function with the Black Coral quartz. This grand choice can give a cultured and classic look to your kitchen.
Soapstone Mist
Gray has become the new beige in modern home design. With Soapstone Mist you can get the sophisticated look of concrete countertops with a smoothly polished quartz surface. This soft gray also features very fine white veins for added depth.
This quartz will give your kitchen a sleek and stylish look. The subtlety of the gray creates an understated boldness in your kitchen that your friends will adore.
Showstoppers
Are you looking for a little drama in your kitchen? For the homeowner who is truly looking to wow and impress, these selections are definitely worth a look.
Calacatta Sierra
A tantalizing variety of thick and thin black veins meander their way across a cool white background to create a striking surface. This quartz takes marble-like qualities to a thrilling new level.
With this glamorous countertop, you'll take your own breath away every time to take a step into your kitchen.
Midnight Corvo Concrete
For a look that feels vintage and modern at the same time, Midnight Corvo Concrete is a perfect choice for a unique kitchen. This quartz features a rich black background with subtle feather-white veining throughout.
What makes this particular quartz option stand out is that it has a textured finish as opposed to the polish of most other quartz surfaces. This quartz is a feast for the senses. It's exquisitely appealing to the eyes and delightful to the touch.
How to Choose?
There are so many amazing options how on earth will you decide which one is best for your kitchen? While it's likely true that you can't go wrong with any of these stunning choices, deciding what materials to use for your countertops is a big deal. You'll want to take your time to make sure you've selected something that will bring joy to your home for many years.
Here is where a skilled professional installation company or wholesaler can come in handy. Most likely they will have a showroom with many colors on hand so you can look and touch to your heart's content. These folks also have the expertise to help you make a choice you can be thrilled about.
One of the things you can do while choosing a countertop surface is to get samples sent to your home. Many countertop manufacturers offer samples of their materials and styles, so you can contact them and have some sent directly to your door. Once you have the samples, you can place them in your kitchen and compare them to any paint samples or cabinet colors on your design list.
Lighting is important, so you'll want to look at these samples and colors in the lighting of your kitchen or something similar if you are building a new kitchen from scratch.
Whatever you choose, you can be confident that upgrading your kitchen countertops will go a long way in increasing the value of your home.
What's Next?
Once you've decided which quartz color will work best for you, there are lots of tools and resources available to help you with the process of building the kitchen of your dreams. One of the biggest considerations when choosing a countertop for your kitchen is cost. Whether you are just updating your kitchen or doing a complete overhaul, it's a good idea to know how much you can spend ahead of time.
There are also costs you may not have thought of when planning your new kitchen. Tools like a cost calculator can help you get a rough idea of what to expect. Factors like material availability and cost of living in your area will certainly affect the bottom line, but these tools can give you a rough idea.
When you're ready to get the process started, there are some general steps to expect as you move forward. Working with an experienced wholesaler will make the entire procedure much easier. They will work with you in selecting the perfect material for you and help you with planning your project.
Let's Get Started
Among the many advantages of quartz are its durability and ease of maintenance. Unlike natural stone options, quartz isn't porous, so the surface won't become a safe haven for bacteria and germs. Also, spills and splatters will clean up in a cinch.
While some may prefer natural stone countertops, there are many advantages to the manufactured nature of quartz. The wide variety of quartz colors is definitely one of them.
When you're ready to create a truly one-of-a-kind kitchen, contact us and let us help you make your culinary dreams come true.